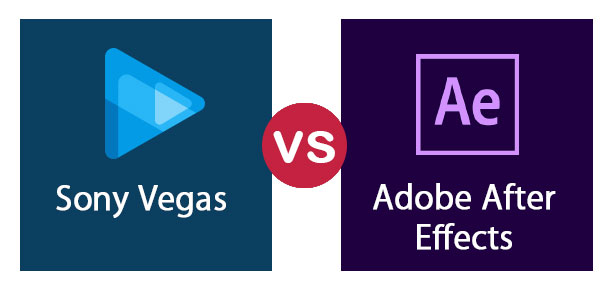 Difference Between Sony Vegas and After Effects
Watching videos and movies is the common thing that every human being is doing when he is free or when he gets time. But what exactly is happening after the shooting, how the videos are edited, and how effects are given is different, but we need to know which apps they are using.  In the field of video editing, many big brands are in the race. All of them are trying to prove them equally good and stable in the market. Everyone's upgrading themselves and trying to give as much as they can. Also, users are eagerly waiting what the latest they get.
There are loads of software in the market which develop video editing software, but some don't meet the requirement. So before selecting any, we should go through the pros and cons of the software.
Out of all other software's, we will discuss "Sony Vegas" and "After Effects".  Discussing Sony Vegas vs After Effects, these are different cases as both works on a different platform.
Head To Head Comparison Between Sony Vegas and After Effects (Infographics)
Below are the top 9 differences between Sony Vegas vs After Effects

Key differences between Sony Vegas and After Effects
Both are popular choices in the market; let us discuss some of the major Differences Between Sony Vegas vs After Effects:
Before we start in finding the key differences between Sony Vegas vs After Effects, we should know that After-effects are completely different software. It is compositing software rather than editing. It is incomparable with premiere and Vegas.
In the Sony Vegas language included are English, Spain, France, and Dutch. But in After effects, languages included are English, China, Germany, India, Japan, Spain, France, Russia, Italy, Dutch, Portugal, Polish, Turkish and Swedish.
Some of the features of Vegas are 1. Automatic crossfades. 2. Adjustable UI appearances. 3. 4k support 4. Logical docking Window Controls 5. DVD and Blue-ray Disc Author. 6. Fast and smooth timeline editing.
Some of the features of the After-effects are:- Immersive virtual reality effects 2. Motion Graphics templates. 3. VR comp Editor. 4. Enhanced 3d Pipeline. 5. GPU accelerated effects.
Rendering tools available in Vegas are pretty much good than the tools present in After effect.
If we check the number of effects present in the After effect, it is very huge rather we can create from our side. This was a major point in which Vegas lags.
The main specialty of Vegas is that it does not require any extra hardware to run smoothly or properly. It can run on any standard windows. On the other hand, After effects require a proper configuration as a minimum of 2 GB Ram.
Both Sony Vegas vs After Effects are the most recommended software amongst the users. But as per the feedback, many users say that using Sony Vegas as hard as they have to opt for tutorials and classes. On the other hand, learning After the effect is easy, a user can learn within a day as well.
The most advantage of Sony Vegas is that user can edit the raw videos and put the effects on the same platform. While After the effect is not designed for editing.
When the budget is concerned for people like freelancers or small businesses, then usually they prefer a single software with a lower budget. At the start, the price of the Sony Vegas may be high, but we shouldn't forget that it is a one-time payment, and the user is free for a lifetime. But in case of After effects, he has to take a subscription for 3 months, 6 months, yearly etc.
Considering my personal experience with video editing, the video I had from my camera I tried in the After effect gave me a very good experience as I got the effects I needed, and the quality of the video got enhanced. Well, I didn't try Vegas because Adobe was the suggestion from all of my friends. This shows the popularity of the software.
Sony Vegas vs After Effects Comparison Table
Below are the topmost comparison
| | | |
| --- | --- | --- |
| Sr no. | Sony Vegas | After effects |
| 1. | This software is now owned by Magix before it was developed by Sonic Foundry.  In between 2003 – 2016, it was owned by Sony creative software. | This software was developed by the Company of science and art, where the first two versions were released. After this was handed over to Aldus, which acquired by Adobe. |
| 2. | It was founded in the year 1999. | It was founded in the year 1993. |
| 3. | It was first developed as audio software, then eventually is converted into audio and video from version 2.0. | It was developed for giving effects as Adobe has Premiere as its video editing software. |
| 4. | As per cost is concerned this is an expensive software | This is cheaper than Sony Vegas. |
| 5. | This software is incorporated with both editing and effects tools, i.e. you don't have to go for second software for the remaining work. | This software is designed to provide the effects to already edited videos, as we can come to know from the name itself. |
| 6. | If someone wants to contact the main office, then the main head office for this is in Germany. | For any issue, if someone wants to make a complaint, then the main head office for this is situated in San Jose, USA. |
| 7. | It is used in windows and Mac. | This software runs on Windows, Mac, Android, iPhone, and iPad. |
| 8. | It is hard to learn the software as per the reviews of the customer. | It is easy for learning; a single day is enough. |
| 9. | Only one software is enough for any kind of editing the videos and adding the effects. | As this doesn't deal with editing, so the user has to be perfect in the other product called as Premiere. |
Conclusion
Looking at these Sony Vegas vs After Effects software, it is easy for a recommendation that is best. If the user wants just and a handy application for its quick use, the user has an option to select Sony Vegas. But in the case of After effects, he will get the quality for adding effects for graphics and videos, but he can't edit that videos. He has to learn multiple applications for the same.
Recommended Articles
This has been a guide to the top difference between Sony Vegas vs After Effects. Here we also discussed the key differences with infographics and comparison table. You may also have a look at the following articles to learn more –