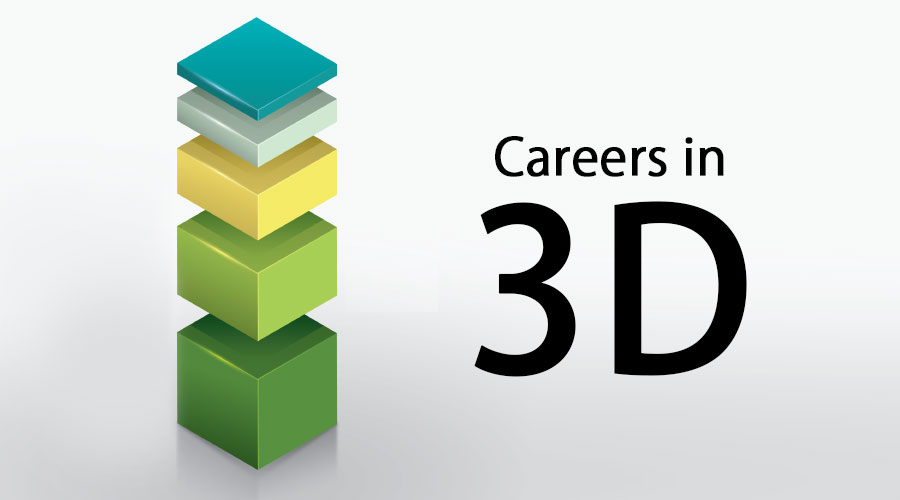 Introduction to Careers in 3D
3D art, which is computer-generated, is a complex thing. People get to see it all the time in games, movies, and TV, but in its entirety, for 3D artists, it can be a little daunting. 3D art is divided into three separate elements: Modeling(Geometry), Rendering, and Animation. Modeling and geometry are the descriptions of objects and the space they occupy, and modeling is the first step in 3D because without geometry and objects there is nothing to render or animate. Rendering is nothing but a conversion of the geometry into pixels on a screen using lights and materials without which you would not be able to see the geometry at all. Animation adds the fourth dimension to 3D art which is time. The values of things change over time, and the animator manages those changes by setting keyframes at certain places.
The role of a 3D artist is to decode problems but it comes after the design process. A 3D artist who obtains the skills of design brings more value to production through his/her ability to solve cognitive and abstract concepts by using design as a guide. He/she should be in tune with what design is, how it will, and ho,w it will profit your work. Animation studios look for 3D professionals who have a traditional design background, so it is advisable to expand your skillset, strengthen your work, and boost your professional worth.
Education Required to Build Careers in 3D.
A 3D artist's work generally involves the use of computer software to create 3D visual images. Degree programs are available for 3D designers such as associate's and bachelor's degrees.
Following are the educational requirements based on the field in 3D:
3D Animators/modelers: Bachelors degree in Computer Graphics(Animation)
3D Graphic Designers: Bachelors degree in Graphic Design.
Web Designers: Bachelors degree in Web Design.
3D Game Development: Bachelors degree in Game.
3D Printing: Bachelors degree(Mechanical)Engineering is the most important, other than that there is industrial design, architecture, online and diploma courses are available.
Career Path in 3D
The 3D design is a very vast field that is used for a variety of projects. Possible career options in 3D include:
3D Animation/Modeling
1988 was the year when the movie who framed roger rabbit? was released, and the field of animation exploded. Then came beauty and the beast, released by Disney in 1992, which became a market sensation. A career in animation has boomed a lot since then. 3D animators use computer programs like Maya, 3D Studio Max and Houdini to create 3D graphics, visual effects, and animation for a variety of industries. People who work in the field of 3D animation produce visual effects and animated characters for movies, television, video games, and other electronic media.
3D Graphic Design
Graphic designers create product illustrations, logos, business cards, letterheads, posters for companies. In short, they create a complete brand that a company or client requires. Computer programs like Adobe Photoshop, Adobe Illustrator, and Cinema 4D are used to produce visual concepts that convey messages.
Web Designer(Web developer)
Web designers focus on both design and functionality. They know how to create websites and terms such as SEO(Search Engine Optimization), HTML 5, CMS(content management system). A website is not only about visuals but also driven by user experience design, and a good website designed by a web designer includes a planned information architecture, user-friendly interface, and simple navigation.
3D Game Development
Now is the right time to consider a career in game development since the video game industry takes in a larger annual income than the motion pictures and music industry. Currently, the computer gaming industry is at the forefront of exciting careers in cutting-edge technology. The 3D gaming industry has accomplished huge popularity and has become a focal point for the income-generating business. People can consider 3D video game development as a profession or as a hobby.
3D Printing
3D printing has been adopted globally by the architecture, aerospace, medical and automotive industries. It has made rapid progress making waves across every industry and its application has become versatile and so in demand that there is a raising need for people who can understand, operate, and deliver innovation through 3D printers and 3D modeling concepts. Conventional organizations are realizing the potential of 3D printers and have been the crucial driving force behind the eruption in job growth and industry demand.
Job Positions For Careers in 3D
There are different application areas in 3D to consider, such as animation, graphic design, web designer, 3D printing, and 3D games. 3D animators use computers and specifically designed software such as Maya and Houdini to add movement to objects and characters. A 3D graphic designer also uses specialized software such as Cinema 4D to build life-like images. These images are used to encourage brands and products, illustrate magazines and books. Web designers integrate 3D representation to web content to add value and appeal. Other application areas include engineering, broadcasting, scientific and medical imaging.
Other job positions:
3D Printing Specialist
3D Customization and Prototyping
3D Game Developer
Salary
Currently, the average salary for a 3D designer is $48,980/year. Considering individual fields, the following are the salaries:
3D Animator: $64,297/year
3D Graphic Designer: $48,834/year
3D Printing: $26,727/year
Career Outlook
The 3D design is a very vast field, and people can consider careers in different fields such as animation, graphic design, 3D printing, 3D game development, and web designers. For an animator, the demand is expected to grow by 6% from now until 2024. The rise of 3D printing and its effect on the manufacturing process is creating a number of rewarding new job roles for those who are both creatively and mechanically inclined. Small-scale firms can be a good source of employment for 3D game developers. A growth of 1% in demand for graphic designers is expected from now until 2024.
Conclusion
In a modern world of technology and people increasingly using their mobiles, they expect realistic computer graphics on their computers and smartphones. A career in 3D gives an opportunity for people who are skilled at creating 3D animated games and graphics that work well on mobile devices. A good fit for a 3D animator will be to work in the movie or television industry. Graphic or web design seems to be two similar occupations that might attract those with animation training and experience. A level of proficiency at 3D design software and printer operation leads to new job openings for fabrication, customization, sales, prototyping, education etc.
Recommended Article
This has been a guide to Careers in 3D. Here we have discussed the Introduction, education, Career Path in 3D, Job Positions, Salary, Career Outlook in 3D, etc. You may also look at the following articles to learn more –