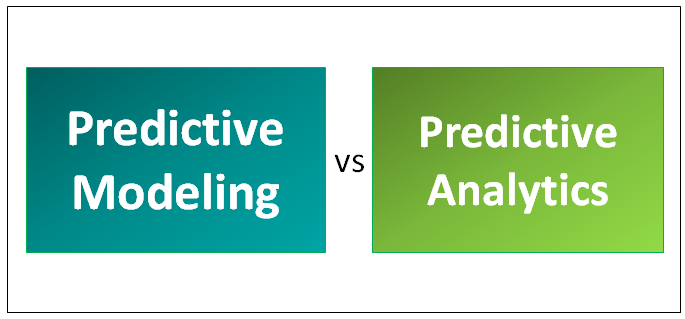 Differences Between Predictive Modeling vs Predictive Analytics
Predictive modeling uses regression model and statistics to predict the probability of an outcome and it can be applied to any unknown event predictive modeling is often used in the field of Machine Learning, Artificial Intelligence (AI). The model is chosen using detection theory to guess the probability of an outcome given a set amount of input data. There are basically 2 classes of predictive model: Parametric Model and Non-Parametric Model. Predictive Analytics is extracting information from data to predict trends and behavior patterns are predictive analytics basically it uses present or past data (historical data) to predict future outcomes to drive better decisions. Predictive analytics got a lot more attention due to the emergence of Big Data and machine learning technologies.
Head to Head Comparison Predictive Modeling and Predictive Analytics
Below is the top 6 Comparison between Predictive Modeling and Predictive Analytics:

Detailed Overview of Predictive Analytics and Predictive Modeling
Let's take a look into a detail description of Predictive Analytics and Predictive Modeling:
Predictive Analytics
Predictive analytics is used to predict the outcome of unknown future events by using techniques from data mining, Statistics, Data modeling, AI to analyze and current data and make a prediction about future problems. It brings together management, information and modeling business used to identify risks and opportunities in the near future.
Predictive analytics on big data allows a user to uncover patterns and relationships in structured and unstructured data and allows the organization to become proactive.
Analytical techniques to conduct predictive analytics are mainly regression techniques and machine learning techniques.
Predictive Analytics Process
Define Project: Define the project outcomes, deliverables, the scope of the effort, business objectives, identify the data sets that are going to be used.
Data Collection: To provide a complete view of customer interactions data is taken from multiple sources and by using Data mining for predictive analytics data is prepared for analysis.
Data Analysis: It is the process of transforming, inspecting, cleaning and modeling data with the objective of extracting useful information, arriving at a conclusion
Statistics: Statistical Analysis enables to validate the assumptions, hypothesis and test those using standard statistical models.
Modeling: Predictive modeling follows iterative process due to which it automatically create accurate predictive models about future. By using multi-modal evolution it provides a number of options to choose best.
Deployment: Predictive model deployment provides the option to deploy the analytical results into the everyday decision-making process to get results, reports and output by automating the decisions based on the modeling.
Model Monitoring: Models are managed and monitored to review the model performance to ensure that it is providing the results expected.
Application of Predictive Analytics
It can be used in many applications below are two examples of predictive analytics:
1.Collection Analytics:
Predictive analytics help by optimizing the allocation of resources by identifying below issues/fact :
Effective collection agencies
Contact strategies
Legal actions increase recovery
Reducing collection costs.
2.Customer Relationship Management (CRM):
Predictive analysis is applied to customer data to achieve CRM objectives like sales, customer service and marketing campaigns. Organizations need to analyze product in demand or potential for high demand also identify issues which loses customers. Analytical CRM is applied on entire customer lifecycle.
Predictive Modeling
It can be applied to any Unknown event from past or future to produce an outcome. Model used to predict outcomes are chosen using detection theory. Predictive modeling solutions are in the form of data mining technology. As this is an iterative process same algorithm is applied to data again and again iteratively so that model can learn.
Predictive Modeling Process
Predictive modelling process involves running algorithm on data for prediction as the process is iterative it trains the model which gives the most fit knowledge for business fulfilment. Below are some of the stages of analytical modeling.
1. Data Gathering and Cleansing
Gather data from all the sources to extract needful information by cleansing operations to remove noisy data so that prediction can be accurate.
2. Data Analysis/Transformation
For normalization, data need to be transformed for efficient processing. Scaling the values to a range normalization so that significance if data is not lost. Also, remove irrelevant elements by correlation analysis to determine final outcome.
3. Building a Predictive Model
Predictive model uses regression technique to build predictive model by using classification algorithm. Identify test data and apply classification rules to check efficiency of classification model against test data.
4. Inferences/Evaluation:
To make inferences perform cluster analysis and create data groups.
Features in Predictive Modeling:
1.Data Analysis and Manipulation
Extract useful data by using data analysis tools also we can modify data, create new data, merge or apply a filter on the data to predict the outcomes.
2.Visualization :
There are tools available to generate reports in the form of interactive graphics.
3.Statistics:
To confirm the prediction by using statistics tool relation between variables in the data can be shown.
Predictive Modeling and Predictive Analytics Comparison Table
Below is the Comparison table between Predictive Modeling and Predictive Analytics.
Predictive Modeling
Predictive Analytics
Business process includes :

Data Collection, Transformation, Build a model and Evaluating/Inference the model to predict the outcome

Business Process includes:

Define Project, Data Collection, Statistics, Modeling, Deployment and Model monitoring.

Iterative Process and Runs 1 or more algorithm on data sets
Process of analyzing Historical and transactional data by statistics and data mining to predict an outcome
There are basically 2 classes of predictive model:

1. Parametric Model

2. Non Parametric Model

Types of Predictive Analytics:

Predictive models
Descriptive models
Decision models

A model is reusable (Regression Model)
Use Technique from Data mining, modeling, Machine Learning and Artificial Intelligence
Applications: It is used in Archaeology, Auto Insurance, Health Care etc.
Applications: It is used in Project risk management,

Fraud detection, Collection analytics, etc.

Types of Model Category:

Predictive Model, Descriptive Model, and decision Model.

Types of Analytics:

Regression technique, Machine learning technique
Conclusion
In Summary, the idea behind Predictive Modeling vs Predictive Analytics is that data which is being generated in daily basis or the historical data may contain information for the present day business to get a maximum outcome with precision. The task of analytics or modeling is to extract the needful data from unstructured or structured data.
Recommended Articles
This has been a guide to Differences Between Predictive Modeling vs Predictive Analytics. Here we have discussed Predictive Modeling vs Predictive Analytics head to head comparison, key difference along with infographics and comparison table. You may also look at the following articles to learn more –