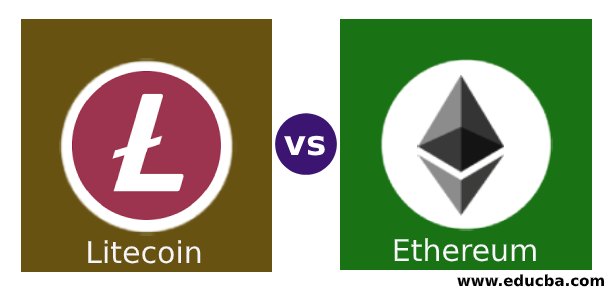 Difference Between Litecoin vs Ethereum
Cryptocurrency is a virtual currency that has an intrinsic value and can be used as a medium of exchange or for any medium of a transaction between two or more parties. This kind of currencies is not authorized by any central regulatory body and thus it can be easily interfered with by any Government or any regulatory body. Cryptocurrencies make fund transferring easy – be it inter-country or among different countries. The technology which is being used is known as Blockchain which allows the different users to store a specific ledger on an online platform. Many important jobs like crowd-funding, online voting can be done by means of Blockchain through minimum processing fees. Many Financial Institutions such as JP Morgan believes that Crypto-currencies are efficient means of a transaction at a lower cost.
Litecoin vs Ethereum mining is two different types of Cryptocurrencies whose values are denominated in terms of United States Dollars. The first cryptocurrency which was launched in 2009 was Bitcoin. Bitcoin is the most popular cryptocurrency and is being traded mostly across the Globe. Based on the model of Bitcoin, Litecoin has been invented with the aim of being the 'Silver' as Bitcoin's 'Gold'. Since inception, this Cryptocurrency became very popular as it has become the improved version of Bitcoin excluding the shortcoming Bitcoin had. The intention was to strengthen the entire process. Litecoin has the function of producing four times blocks as Bitcoin. For e.g Litecoin can create one block in every 2.5 minutes whereas Bitcoin takes every ten minutes. Litecoin stands as the third-largest trading currencies across the Globe apart from Bitcoin and Ether.
Ethereum, on the other hand, is an operating platform where Cryptocurrency Ether operates. Ethereum is an open-ended, public, block-chain based data computing platform where it's functional currency Ether trades. A modified version of the Nakamoto consensus is being used for the functioning of Ethereum. First Ethereum was invented in the year 2015 by Vitalik Buterin, a cryptocurrency researcher. On 2016 the Ethereum was divided into two different parts. The old one remained as the Ethereum Classic and the new one became Ethereum.
Head To Head Comparison Between Litecoin and Ethereum (Infographics)
Below is the top 4 difference between Litecoin vs Ethereum

Key Differences between Litecoin and Ethereum
Both Litecoin vs Ethereum are popular choices in the market; let us discuss some of the major Differences Between Litecoin vs Ethereum:
The block time requires for Ethereum is 14 to 15 seconds whereas Lite-coin takes 2.5 seconds.
The reward for Litecoin vs Ethereum is primarily based on the concept known as 'Proof of work'. Litecoin awards 25 LTCs whereas ethereum awards 5 ether for each verified block.
There is a limitation on litecoin as the number of litecoin released is being capped and no further new coins can be flown into the system. Whereas Ethereum has a slightly different model and they tend to release the same number of coins every year.
One of the major differences between Litecoin vs Ethereum mining is the transaction costs- the cost of each litecoin is fixed at $0.4/ USD. But on the other hand, Ethereum takes a different approach; they use the 'Gas Approach' to determine the cost of each transaction. This approach emphasizes the complexity, storage and bandwidth and the relative requirement which are required during the transaction period.
New coins are generated by mining of ether in case of Ethereum but in case of litecoin transaction depends upon the ledger of the customer.
The price gap is huge, though the price of litecoin went for a huge run-up and during 2017 and corrected and settled to a particular base the price of Ethereum corrected hugely after a dream run-up in 2017.
Litecoin was introduced on the platform of Bitcoin in 2011 and was modified after that. Ethereum was invented by a Toronto programmer and Bitcoin enthusiast on the year 2013 which is a few years after Litecoin was invented.
Litecoin vs Ethereum Comparison Table
Below is the 4 topmost comparison between Litecoin vs Ethereum
| | | |
| --- | --- | --- |
| The basis of Comparison  | Litecoin | Ethereum |
| Related to | Litecoin is a form of Cryptocurrency | Ethereum is the platform of cryptocurrency, where the cryptocurrency Ether gets traded. |
| Meaning | The motive behind the invention of Virtual currencies is- an easy transaction between two parties, the removal of ambiguities and enhancement of efficiency at a reduced price bracket. However, these currencies are not regulated by any governing bodies. | Ethereum is the blockchain platform that is based on several systematic Algorithm computations. There are methods of storing ledger within the system. |
| Financial asset | Litecoin is a financial asset and it has an intrinsic value of its own. However, one can transact with the crypto-currency and the value is represented in terms of USD. | The Digital platform where currencies like Ether get traded and by means of several algorithms the value of the traded Cryptocurrency can find out. |
| Capital asset | Lite coin is a capital asset as it is being used for the purpose of any particular transaction or exchange. | Ethereum is not used as a tool of exchange or transaction. The function of Ethereum is to provide functional support its cryptocurrency ether where several data, ledgers can be stored. |
Conclusion
Cryptocurrencies have evolved as a new generation of transacting tools with an intrinsic value of its own. However, one school of thought believes it has adverse effects as the currency is not being regulated by any Governing body. Thus the value which is being calculated in terms of USD does not look promising in the broader perspective. But with new generation traders, cross-border dealings, the essence of Crypto-currency has evolved as one of the essential parts in the day-to-day business.
The price of Bitcoin (one of the heavily traded cryptocurrencies) has increased by four folds during the last couple of years and corrected. This shows the new generation traders/ parties are well habituated with the tool. Apart from the USA, several countries are setting their Research & Development for the invention of their own Block-chain. Only time will prove their importance as historically Barter system is being replaced by currency or cash, cash is being replaced by Plastic money and Electronic Payment system!
Recommended Article
This has been a guide to the top difference between Litecoin vs Ethereum. Here we also discuss the Litecoin vs Ethereum mining key differences with infographics, and a comparison table. You may also have a look at the following articles to learn more –