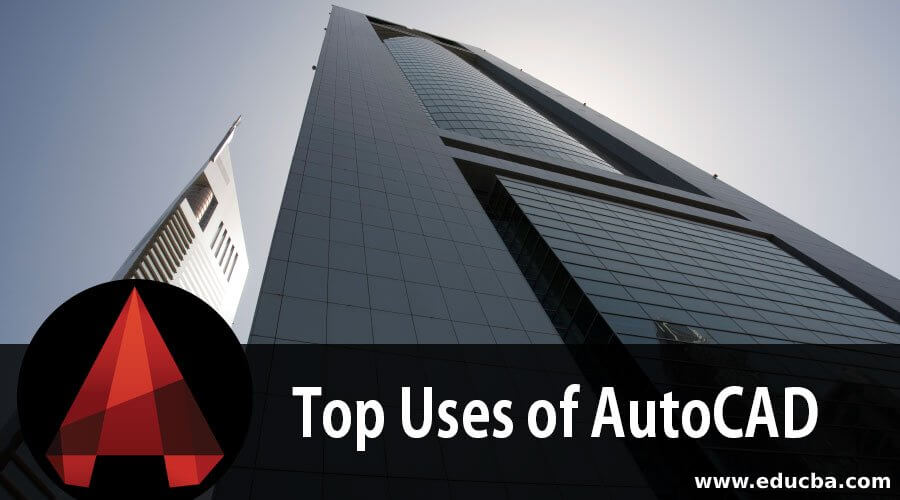 What is AutoCAD?
AutoCAD can be defined as the use of computer systems to assist in the creation, modification, optimization of a design. In this, we can create both 2D and 3D drawings used in construction and manufacturing. It was developed by John Walker in 1982 with the help of AUTODESK and maintained it successfully. It is most commonly used for creating and modifying 2D & 3D designs for professional drafting with detail measurement information about the conceptual design and layout of the product, also available in 14 different languages with respect to location. Users can customize the CAD software with available add-on apps as per project requirements. User specialized tool setting can be done to view and design product in wireframe and surface modeling. Widely preferred in the industries of mechanical, telecom, civil, architectural engineering. It stands on demand to students and industries because of its requirements.
Reasons for Implementing CAD systems
To increase the productivity of the designer.
To improve the quality of design.
To create a database for manufacturing.
To improve communication through documentation.
Before implementing this software, all engineers used drafters and sheets to draw design a product. It took so much time for a designer to design a product. If the manufactured product didn't satisfy the customer need or the manufacturers found any errors in the product after manufacturing, then they need to change the design of the product, which was a time-consuming process. The designer needs to change the design of a product by erasing or sometimes he needs to use the new chart for designing it.
It leads to the following problems:
Delay in production.
Increase in scrap rate.
In order to reduce the above problems, this software is one of the solutions for it. In this software, we can save the design of product modifications; we can edit the design, which is saved previously, which reduces time to design a product. It also reduced the human effort.
In this software, initially, we can create designs easily using commands afterward icons were added in the software. With the uses Of AutoCAD, we can design a product with great accuracy.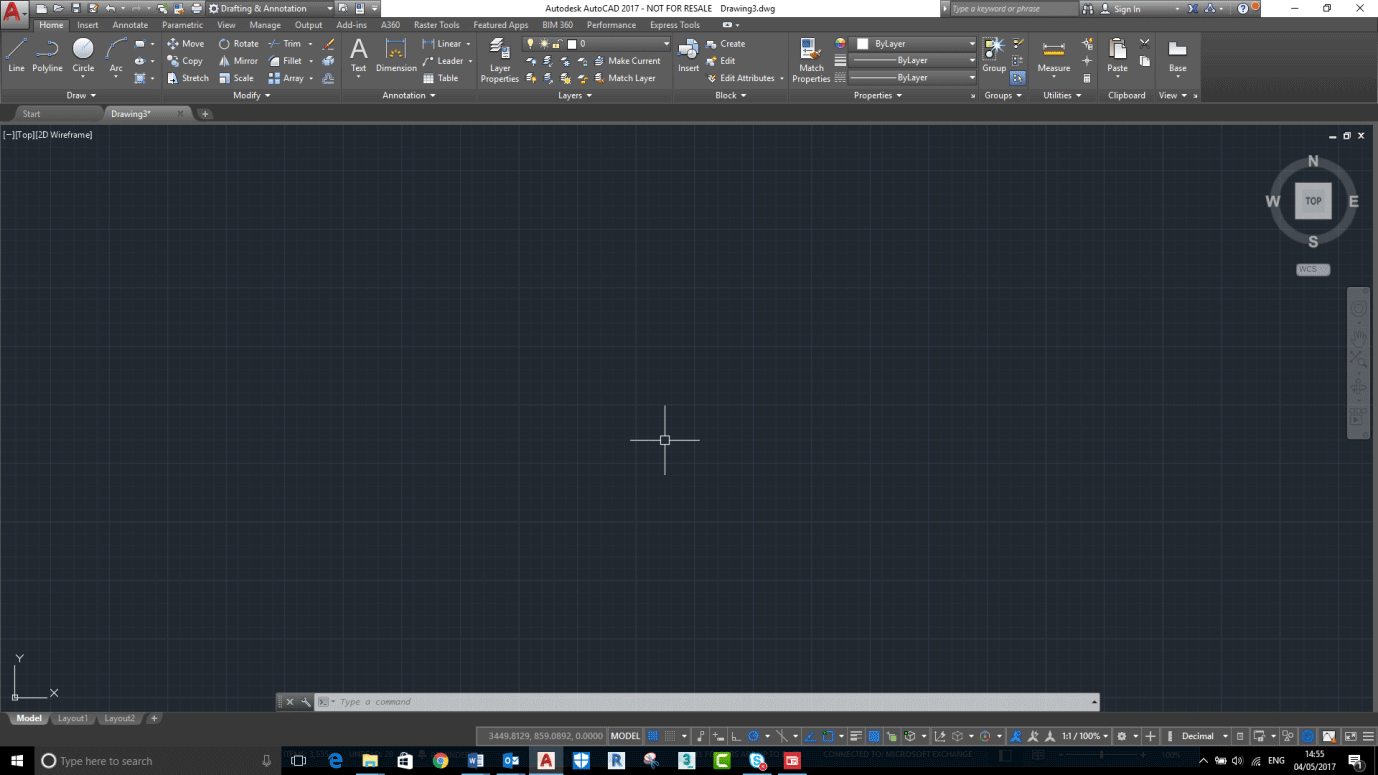 What does AutoCAD stand for?
AutoCAD stands for Computer-Aided Design. This software used for designing and drafting. It allows a user to conceptualize ideas, product designs and drawings to the required level of technical accuracy, perform rapid design calculations and simulations in the field of manufacturing industries.
History and development
The first version was released on December 23, 1982. It is divided into 2 parts.
AutoCAD 360.
AutoCAD LT.
AutoCAD 360 is used for 2D, 3D and Isometric view, whereas AutoCAD LT is only used for 2D.
AutoCAD 2000 I (Internet)
AutoCAD 2006 (Work Space is added)
Drafting and Annotation
AutoCAD classic
3D basics
3D modeling
In AutoCAD 2010 (3D quality improvisation).
In 2011, Viewports control systems were added.
In 2012, View cube or Navigation cube was added.
In 2013, icons were added.
In 2014, a live mapping was added.
In 2015, AutoCAD classic was removed from the workspace.
In 2016, a Geometric center, "O snap", is added.
What do you use AutoCAD for?
The uses of AutoCAD helps to create blueprints for engine valves and engine spare parts for manufacturing with accurate measurement. The designed blueprint will be carried with the job for its complete stages of start to delivery in between production teams, quality team and machine handling teams review the design in case of any issues of understanding and continue machining with the reference of blueprint drafters can be done in two types wiring diagram and a surface model diagram for use in the manufacturing, assembling and repairing of Parts. It's also used for tracking the number of orders completed in a required time span.
Applications
Aerospace calls their final design as an assembly.
Automotive call their final design a Parts design.
Electrical and electronics call their final design as Blueprint and Circuit design.
Rail and marine call their final design as Layout or Blueprint.
Structural and civil call their final design as Layout.
What are the benefits of using AutoCAD?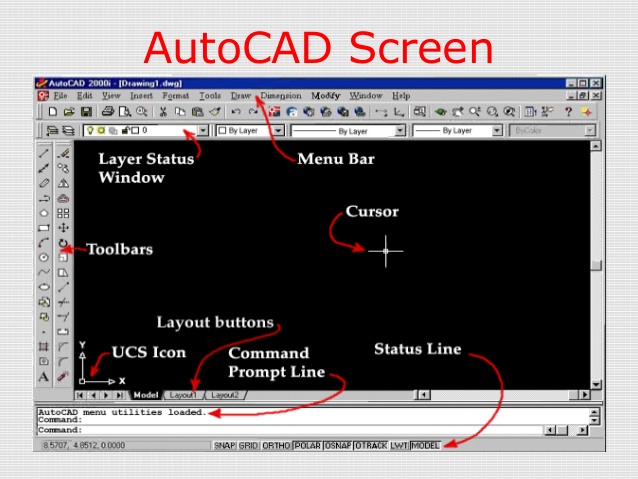 CAD interface makes it the best technical designing beginners software for study and initial stages of engineering designing career. There are also adopted as a skill development application for a graduate-level of education. Apart from their advantages, both have their project support requirements of designing multiple components and remodifying them with technology changing's for the future.
Benefits of AUTOCAD:
It has the ability to produce very accurate designs
Drawings can be created in 2D or 3D and rotated.
Other computer programmes can be linked to the design software.
AutoCAD as an architectural planning tool: It enables architects to design, plan, execute and analyze the strength of a building at the design stage level.
AutoCAD as an engineering drafting tool: It helps engineers to design, analyze and solve design issues resulting in accurate designs.
In 3D printing: A 3D print has its own advantages for designers, and for this software helps them. The designs can be exported to various preferred formats.
AutoCAD in the fashion industry: It has the tools necessary for planning designs for the manufacture of jewelry, toys and other delicate objects.
AutoCAD as an industrial design tool: It helps to reduce manufacturing costs as it saves time and efforts required for manual designing.
How is AutoCAD used?
It's a 2-D and 3-D computer-aided drafting software application for architecture, construction, and manufacturing to guide making blueprints for engineering plans. Professionals are called design engineers.
1. Training Programs
This CAD and computer-aided designing can be found in many institutions for skill updating with certification and degree programs in AutoCAD; they give students training to have hands-on software usage for industrial drafting and assembling with certification. Central Institute of Tool Design is one such institute.
2. Career Information
While drafters work in CAD is used in the below list of engineering streams.
Mechanical, architectural, civil, electrical, and electronics.
Mechanical design plans for equipment and spares of mechanical devices.
Architectural design for plans layouts and 3D for residential and commercial buildings.
Civil design for design and construction of roadways, 3D buildings, Industrial Plants, and other major projects.
Electrical design work with electric circuits, which are small in size and electrical wiring system layouts for machines.
Its interface is pretty similar to the all other designing software applications, and using Nodes, Lines and Polygons, the engineer creates the draft of the product for their project requirements.
The below list of shortcuts helps in drafting the design with less time.
https://www.autodesk.com/shortcuts/autocad
Recommended Articles
This has been a guide to the Top Uses Of AutoCAD. Here we have discussed the Uses of AutoCAD with its History, Applications, benefits, implementing AutoCAD systems, etc. You may also look at the following article to learn more –