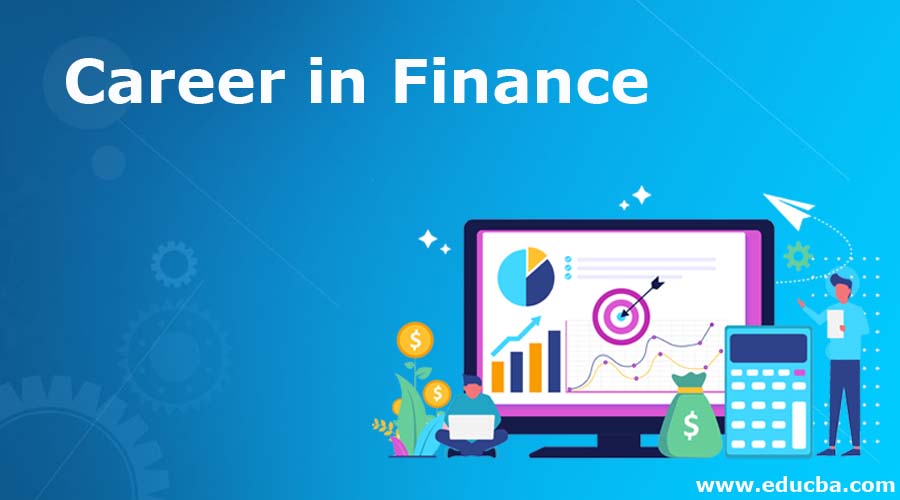 Introduction to Career in Finance
The following article provides an outline for Career in Finance. Finance, is an evergreen word. Finance is a word that is associated with everything as nothing comes for free in this world and hence it has a great scope. Finance is a field that is concerned with the allocation (investment) of assets and liabilities over space and time, often under conditions of risk or uncertainty. Finance can also be defined as the art of money management.
Two of the main types of finance includes:
Debt finance: Money borrowed from external lenders, such as a bank.
Equity finance: Investing your own money or funds from other stakeholders in exchange for partial ownership.
Education Required for Finance
A financial analyst needs a minimum of a bachelor's degree – preferably in a finance-related major, such as accounting, statistics, or economics. But, as in every field, master's is beneficial; likewise, in the finance sector master's would be useful. So, Analysts who want to enjoy greater opportunities for jobs and salaries might consider pursuing a master's degree in finance or a Master's of Business Administration (MBA).
The 10 skills that count for your career in finance are:
1. Communication skills
As in any other industry, communication plays a vital role in the Finance Industry; it is one of the very important aspects seen in a candidate while making a judgment.
Sound knowledge of the subject and good communication is a perfect choice for recruiters.
2. Basic accounting knowledge and a minimal accounting degree from a recognized institution
Sound knowledge with some real-time work experience will land to the dream job.
A Career in finance means a candidate should have demonstrated practical knowledge of the subject, just mentioning it in the resume will not work.
Candidates who have a basic degree with some fair knowledge of the subject can easily be back up in their hired organization.
3. Interpersonal skills
Finance professionals are no more just bound in the cubicles; they play a dynamic role in today's era.
In today's era, we require a good number of resources to work in the finance sector as we need to deal with the clients on a regular basis and for this Interpersonal skill is an added advantage.
As in every field, finance also has a lot of competition in the market, so for building a good relationship with different customers all over the world, it is important to excel.
When we compare two equally qualified hires, interpersonal skills are the most common point of difference, which means a lot.
4. Financial reporting
Financial reporting skills are a requisite requirement, particularly in growing areas such as super forecasting.
However, it is difficult to find a candidate with strong financial reporting skills.
5. Analytical ability
Candidates with high analytical abilities are the most preferred as they can implement their thinking, analyze the scenarios, and draw definite conclusions.
Candidates looking for a successful career in finance must demonstrate their analytical abilities with real-world examples and also with some of their demonstrated work.
6. Problem-solving skills
It is not just essential to have complete knowledge of the system, but the ability to learn is what really matters; it is important to stay calm and have the ability to tackle complex problems.
The record of solving the problem and bringing it to closure is the thing that makes the candidate stand out.
7. Knowledge of information technology
The main focus in today's era is on digitization and automation. Therefore, it has encouraged the managers to look for financial domain knowledge and look for knowledge of IT skills.
Automation, Predictive Analytics, SAP are some preferred IT skills in the market.
8. Managerial level experience
It is always good to have managerial skills as it will help to own things much better.
If one has proven his ability to manage teams during his career in any field, he is bound to excel in a leadership position in the future.
9. Commercial data
Professionals must be well versed with the company's fiscal data and market standards.
10. Innovation in the finance sector
Finance and accounting may be associated with a monetary system, but that doesn't mean innovation doesn't have its place; there is always a lot of scope of innovation in every field.
Career Path In Finance
The finance sector includes the following major sectors:
Banks
Investment Funds
Insurance Companies
Real Estate
The finance sector can fetch you any kind of job one desires to get into – from being an accountant in a small firm to be an investment banker in a giant MNC.
It's up to the person what kind of city, salary, post, etc., he wants.
Job Position or Application Area
The different areas of work in financial services:
Careers in Retail and Commercial Banking.
Commercial Finance.
Corporate Finance.
Financial Accounting.
Financial Planning & Wealth Management.
Specialist Markets.
Structured Finance.
Salary
As mentioned above, Finance is an evergreen field, so there is no way that a person with sound knowledge and an adequate degree is not able to get a good salary. The median annual wage for financial analysts was $84,300 in May 2017.
Below is the graph where the salary of various posts in Finance: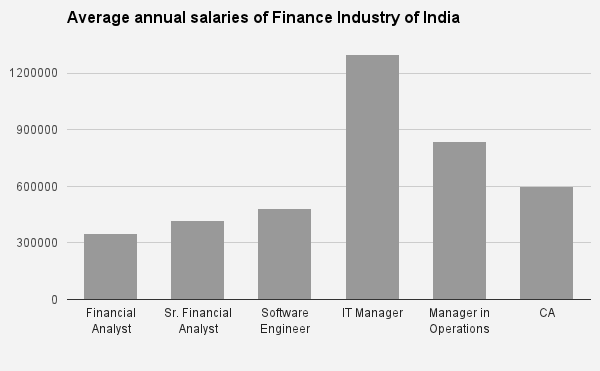 Career Outlook in Finance
The employment of financial analysts in this domain is projected to grow 11 percent from the year 2016 to 2026, which is faster than the average for all the other occupations.
Conclusion – Career in Finance
When monetary things are involved, an extra step of precaution is required; the same applies to the Financial sector. It is sometimes stressful, and one needs to stand out to get lucrative salaries in this sector in terms of domain knowledge and communication abilities. On the other hand, successful people show a distinct passion for their work, and that is very much evident to their colleagues and seniors, and it makes them shine like a star, and they become an asset to the company.
Recommended Articles
This has been a guide to Career in Finance. Here we have discussed the education, career path, job position, salary, and career outlook in Finance. You may also look at the following article to learn more –