Leveraged Buyout (LBO)
An acquisition of a target company by a financial sponsor or the other firm (Acquirer) by using debt funding for acquisition is called as Leveraged Buy Out
In LBO's the Acquirer uses the Target's cash flow to service the debt and the Target's assets are used as Collateral.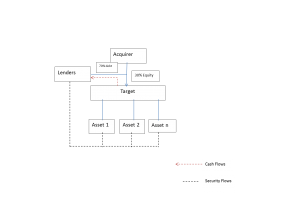 Reason behind LBO is that because of presence of tax shields, debt is cheaper than Equity.
Acquirer:
In this case the acquirer is Private Equity (PE) Funds. Private Equity Firms raises capitals from investors like High Net worth Individuals, Governments, Mutual funds, Pension funds, Insurance Funds and invests these funds into the target companies.
Target:
Features of an LBO Candidate
An attractive candidate for acquisition via LBO should possess the following attributes:
 The target business should have a good market position with profitable background.
The target should have a relatively low level of debt and high level assets.
It must have the stable cash flows in order to meet the interest payment and reimbursement.
Note:
Become an I-Banker
Learn the fundamentals concepts of investment banking. Explore the concepts of financial modeling and valuation in detail. Exhibit skills to understand the process of M&A's, IPO's, equity research.
What are the reasons of LBO?
Private Investment firm may have interest in the target business firms business, and it may think it will run that firm more efficiently.
Acquirer may make that business achieve more growth.
With borrowed fund, will help reducing the tax bill as firms won't have to pay tax on interest payments.
Hypothetical Example of LBO
Brilliant Co. is a leveraged buyout firm and it wants to buy Alright Co.
Brilliant Co. determines that the total value of the Alright Co. is $10 billion and it knows that Alright Co. has positive cash flow but it is not managed properly. So buying this it can manage it properly.
For buying purpose Brilliant Co. doesn't want to put entire $10 billion dollars, for purchasing, instead it will put $1 billion in cash and will borrow the remaining amount. And for borrowing purpose it will use Alright Company's assets as collateral. If the deal happens then Brilliant Co. will use positive cash flow for the debt repayments. This way LBO happens
Actual Example of LBO
 Tata Tea was one of the largest tea company faced several challenges in 1999, like
Deregulation, Customer base, less international sales and stiff competition from other brands.
In order to overcome, they needed to improve and sustain in the global competition. For that they needed to acquire other global brand. The solution provided was Leveraged Buy Out. Therefore Tata Tea acquired Tetley brand by leveraged buy outing deal. The value of Tata Tea was $114 million and that of Tetley was $450 million
Characteristics LBOs
Large portion of buyout is financed through debt hence it is called as Leveraged Buy-Outs.
In LBO deals the assets and the cash flows of the target company are used for the purpose of debt repayment.
After the buyout; the company's control is in the hands of LBO firm.
ADVANTAGES OF LBO:
Responsibility to pay interest and repay the debt, forces the management to perform better which results in increased productivity.
Restructuring and use of the acquired firm's asset saves the costs Economies of scale
For better performance technology is updated and large amounts of production leads to economies of scale.
Because of huge Debt; payments of dividends are not necessary.
Tax shield: Because of debt financing, there are interest tax shields which increases cash flow to the shareholders.
DISADVANTAGES OF LBO: 
There are uncertainties associated with financials.
Because of high leverage, there will be inappropriate investment policy
If the cash flow is low and an inability to pay principal and debt, can lead to bankruptcy of the firm.
Carrying out LBO deal can be dangerous to the companies which are vulnerable to competition.
High debt payment may affect company's credit rating.
Though LBO transactions are valued on multiples of EBITDA Earnings Before Interest, Taxes, Depreciation and Amortization), LBO can be driven by many scenarios like repackaging plan, portfolio plan, and split-up.
 In Repackaging Plan the private equity company buys the target company using debt. Thus it holds that company for few years and repackages it such that once it is finely tuned it is then brought back to the market as an IPO.
 In Portfolio plan, company acquires its competitor and through proper analysis the process happens. If the plan is successful then everybody gets benefit such that shareholders receive good price. 
 In split-up case, companies splits up from their existing part of business because it thinks that it is of more worth without that business part. But this method is not welcomed by employees and management as they have the fear of losing the jobs.
Career Opportunities in LBO firms:
As LBO is carried out by private equity firms, therefore there are many entry level jobs in private equity firms as an analyst. The activities involved in this include:
Analysis of financial statements of the potential buyout companies.
Carrying out due diligence of the potential buyout firms
Doing industry and economy research.
Finding out potential customers for investments in PE firms
Providing Mezzanine debt for the
 People working in PE firms may have to interact with other professionals like bankers, law firms.
Key Requirements:
 Candidate can be a postgraduate from Finance background or some firms even prefer finance graduates.
What you need to have is:
 Analytical Skills:
 You should have good spreadsheet analytical skills to work for complex LBO model. Financial Knowledge should be strong to provide detail inputs in decision making.
 Market Knowledge:
Candidate should understand the market or industry conditions, like what is trending in, the competitor's strategy etc. If you have work experience in related industry then PE firms refer such candidates.
 Along with it candidate should have proper communication skills and ease to handle people which is very much required in the job market.