Learn from Home Offer TAKE THIS BUNDLE
Film Editing Training - Premiere Pro, Sony Vegas Pro, Lightworks, NewBlueFX and Pixelan (9 Courses)
This Film Editing Course includes 9 courses with 230+ hours of video tutorials and Lifetime access.

You will also get verifiable certificates (unique certification number and your unique URL) when you complete each of them. This course will enable you to develop storytelling and design skills, learn to shoot, capture and edit digital video record voiceovers, edit music and create your own soundtracks.
Adobe Premiere Pro - Advanced Video Editing in Premiere
Editing Digital Videos using Lightworks
Learn Adobe Encore Training
Adobe After Effects- Adobe After Effects Course Training
Offer ends in:
TAKE THIS BUNDLE
* One Time Payment & Get Lifetime Access
What you get in this Film Editing Training - Premiere Pro, Sony Vegas Pro, Lightworks, NewBlueFX and Pixelan?
Online Classes
Technical Support
Mobile App Access
Case Studies
About Film Editing Course
| Course | | No. of Hours |
| --- | --- | --- |
| Adobe Premiere Pro - Advanced Video Editing in Premiere | | 16h 31m |
| Vegas Pro 13 Training | Sony Vegas Pro Software | | 123h 28m |
| Editing Digital Videos using Lightworks | | 18h 05m |
| Learn Adobe Encore Training | Adobe Encore DVD | | 4h 49m |
| Adobe After Effects - Comprehensive Training | | 6h 17m |
| NewBlueFX Practical - Enhancing Visual Effects | | 21h 06m |
| DaVinci Resolve 11 Training | | 1h 11m |
| Pixelan - Mastering Video Effects | | 31h 09m |
| Magic Bullet Looks - Master Color Correction and Film Looks | | 8h 57m |
---
| | |
| --- | --- |
| Course Name | Online Film Editing Course Bundle |
| Deal | You get access to all 9 courses bundle. You do not need to purchase each course separately. |
| Hours | 230+ Video Hours |
| Core Coverage | We learn film editing software such as Adobe Premiere Pro, Vegas Pro 13, Lightworks, Adobe Encore, Adobe After Effects, New Blue FX, DaVinci Resolve 11, Pixelan, Magic Bullet Looks. |
| Course Validity | Lifetime Access |
| Eligibility | Anyone serious about learning Film Editing |
| Pre-Requisites | Basic knowledge of using editing software |
| What do you get? | Certificate of Completion for each of the 9 courses |
| Certification Type | Course Completion Certificates |
| Verifiable Certificates? | Yes, you get verifiable certificates for each course with a unique link. These link can be included in your resume/Linkedin profile to showcase your enhanced film editing skills |
| Type of Training | Video Course – Self Paced Learning |
| Software Required |  You can download the software from their official website |
| Other Requirement | Speaker / Headphone |
Online Film Editing Course Curriculum
---
Let's have a look at the Film Editing Course in detail below:

Adobe Premiere Pro - Advanced Video Editing in Premiere
This course starts with an introduction to Digital Video Editing in Premiere, followed by different topics of advanced level. We learn about Keyframes and applying Transitions. Next. We learn how to work with Audio and Text. Further, we learn compositing in Adobe Premiere and how to Export Timeline in the software.
Vegas Pro 13 Training | Sony Vegas Pro Software
In this module, we learn how to edit videos using Sony Vegas Pro software. We start by understanding the Interface and Timeline of the program. Further, we learn the Organization of Workspace, Basic Editing Functions, Editing with Proxy files, Working with Scripts, Basic Masking, Media Generators. Moving on to detailed lectures, we learn about 3D Track Motion Animation, Margins and Box Player, Workings with VFX, BCC VFX Plugins and others.
Editing Digital Videos using Lightworks
we start this chapter with the Introduction to Lightworks. In this Lecture, we cover topics about the UI, Importing Commands, Timeline & Monitor, System Settings, Grouping the tracks, Various Effects, Drag and Drop Edit. The next lecture is the Advanced section, which includes advanced topics like Working with Graphs, masked Blending, Text Animation, Luma Key, Video Routing, Image Key, DVE presets, Color Presets, Audio Mixing, & Track Sound Level.
Learn Adobe Encore Training | Adobe Encore DVD
In this chapter, we learn about Adobe Encore software. We start by the Introduction, followed by learning about the Workspace and Workflow. We learn about Project Planning, Preparing Projects, Creating Menus, Encore Creating Menus, Creating Slideshow and understanding Timeline. Lastly, we learn about building and testing a DVD.
Adobe After Effects - Comprehensive Training
This chapter teaches us editing footages with Adobe After Effects. Starting with the Introduction to the Interface, it teaches us how to create a new composition, Character Masking, Text Animation, working with images, Camera View and animate, Black strip animate, Splash animation & Puppet animation & lastly, Apps Animation.
NewBlueFX Practical - Enhancing Visual Effects
In this chapter, we learn about the New Blue FX Software. Next, we learn about the Pixelator & Selective Touch Up. Moving ahead, we study about Luma, Color Fixer Pro & Proportion Helper.
DaVinci Resolve 11 Training
This module is all about learning DaVinci Resolve 11 software. We study the Interface of the application with some Basic settings. We study about Projects Setting in the program.
Pixelan - Mastering Video Effects
In this module, we learn about Pixelan 3D Six pack for applying 3D Transitions in the Post-Production process of Video Editing. We start by the Introduction, which followed by lectures on Spice Master, Blur Master, Creative Ease, Dissolve Master. Finally, we learn about Blur-Sharpen Tools for Video Styling and Film Touch Pro for Video Color Grading.
Magic Bullet Looks - Master Color Correction and Film Looks
In this module, we will learn about using Magic Bullet Looks for doing Professional Grade Video Color Corrections and Video styling. We start the chapter with the Introduction in which we learn about the User Interface, different Effects, Lens Tools, Black Melting, Grade Exposures, etc. The next section is the Advanced section which teaches us about the Vector Scope, Blockbuster Looks, Color Play, Four Way Color, Enhancements, Log Grading, techniques, and People & Time Place.
---
Certificate of Completion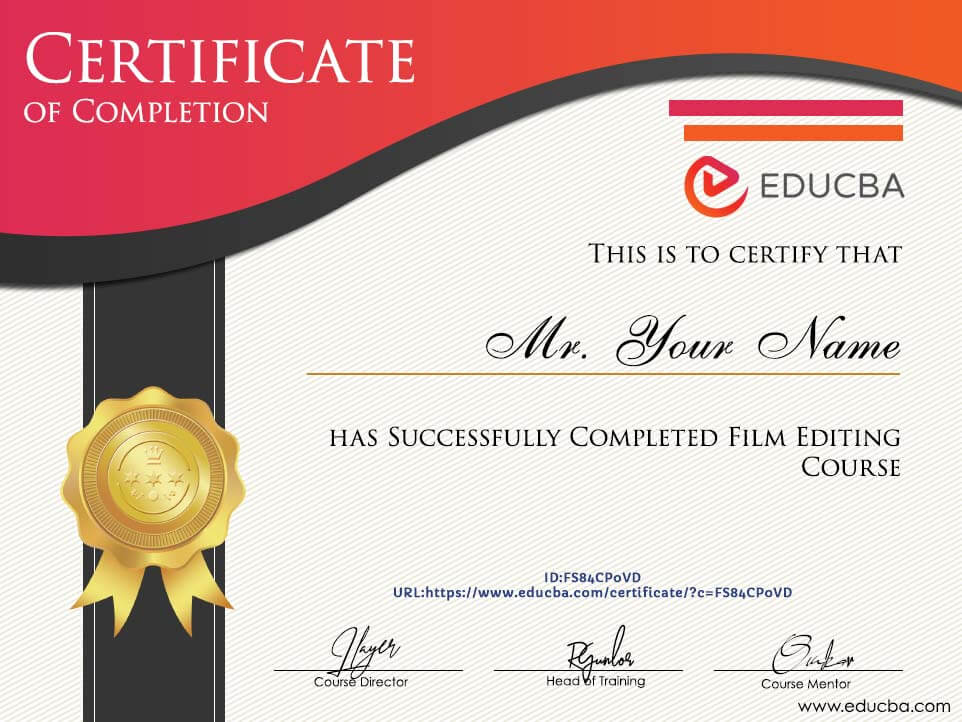 ---
What is the Film Editing?
Film Editing is a two-way process. It is both Creative and a technical part of Post Production Process of Filmmaking. On the most basic level, film editing is the skill, method, and practice of collecting shots in a consistent sequence. The job of the film Editors is cutting and gathering the video and audio footage for television and movie productions and combining it into a finished motion picture. Sometimes film editing is considered to as an invisible art if done perfectly, as it gets altogether unnoticed by the viewer.
Presently, most of the films are edited on a digital platform using various software applications like Adobe Premiere, Final Cut Pro, Avid. In this course of Film Editing, there are several applications used for editing videos and audios.
The 1st software used in this course is Adobe Premiere, which is a timeline-based video editing application and widely used to edit films such as Deadpool, Captain Aby Raed, Monsters, etc. It also supports 3D editing and can help the user to view 3D material using 2D monitors. It supports High-resolution video editing.
Next, we study about Sony Vegas Pro Software. This is a Video Editing Software Suite for Non-Linear Editing. Though this application is compatible with Windows only. This Program works well in the areas of compositing and motion graphics. It includes a 3D track motion compositing tool that can control the Z-depth also.
The next important application we study in this course is Adobe Encore. This program is generally used to create DVDs and is a software produced by Adobe. Most of the video producers and editors use this application. The DVD menus can be modified and developed in Photoshop. Da Vinci Resolve Software is used worldwide for Color Corrections and Color Grading and thus is also included in this Film editing course.
Adobe After Effects is also a part of this course. This application is mostly used in the post-production process of film making and television shows. It is a digital visual effect, motion graphics and compositing application. Used for tracking, keying and animating videos after the shooting process.

Industry Growth Trend
The global computational creativity market size to grow from USD 204 million in 2018 to USD 685 million by 2023, at a Compound Annual Growth Rate (CAGR) of 27.4% during 2018–2023.
[Source - MarketsandMarkets]
Which skills you will learn in this Film Editing Course?
Film Editing course is aimed for learners interested in developing storytelling and design skills, learn to shoot, capture and edit digital videos, edit music and create their soundtracks. By learning the methods included in this course, the learner can improve their skills to the next level. The students will learn to create Fantastic Videos and Professional High-Quality Video Presentations
It helps the students in mastering the basics of video editing to film editing using different digital software and then it equally emphasizes using the gained knowledge by creating methods and introducing several features and techniques of Film Editing. The learner will also master the foundations of Adobe After Effects software. They will be introduced to the in and out of the software which will help them in learning the fundamentals of every aspect of the program.
Students will learn an efficient workflow for editing with various Film editing programs and choosing the right effects in the programs. With this film editing course, the students will be able to master skills in Sony Vegas, Lightworks, Encore, After Effects, Pixelan, New Blue FX, video effects and other skills and techniques.
Requirements / Pre-requisites
Basic knowledge about computers is a must with a 4GB of RAM.
A desire to learn Film Editing with Audio & Video Editing with lots of ideas and creativity is a much-needed pre-requisite before starting this Film Editing Course. There should be a desire and dedication to study the software through this course, then only the results would be good.
Basic knowledge about Audio Formats and Codecs is also required before the Learner start using this course. Since the training is based on workable knowledge teamed with various logical examples and skills, the student needs to have a prior understanding of the small basic needs of Audio & Video Editing.
Prior knowledge about Photoshop, Illustrator will help you understand the software easily as many parts of the interface, toolbox, and effects are mostly the same.
Target Audience
This film editing course can be used well by Professional Photographers and Videographers.
Students who want to work on DVD authorizing and Photographers.
Graphics designers who are looking for a new career shift can also benefit from this film editing course.
Students you wish to make careers in Film Editing, Television Editing, Motion Graphics, Visual Graphics for Film and TV Industry and many fields where VFX, Mo-Graphs, Compositing, and Editing are commonly used.
The Film Editing course is aimed at learners who are dedicated to learn and acquire the skills in no time.
Experienced Learners who are into Graphic Designing Industry can upgrade to Motion Graphics by taking up this course.
The course will help storytellers to expand their stories by adding effective Motion graphics and visual effects to their narration.
Film Editing Course FAQ's- General Questions
---
Will this Film Editing Course help me to grow my career?
It is a career aimed at training, aimed to teach different methods of film and video Editing and it will help you to create your soundtracks and film footage. If you take up this training you will not only study the software but also obtain command over the various techniques and processes of digital film Editing with various software included in this course, which in turn will automatically open many career opportunities.
I am a fresher in the field of Film Editing. Will this training benefit me?
I would say that a pure beginner in this field would be able to learn film Editing using different software without any complications. Since you are a beginner you need to first gain some basic knowledge of Audio and Video editing and assembling and then only, you will be able to succeed using this film editing course
Career Benefits
Film Editing Course Online is a career aimed at training that focusses on strengthening the capabilities and providing the learner to study many various techniques of learning Audio and Video Editing and assembling through this course.
This film editing course aims to give the pupils a solid foundation with many of the commands and tools of the software and to start making their own polished and digital video & audio projects. In this course, we all will study the skill that will not only guide us to raise our careers but also will help us to design our forthcoming. This training provides techniques and methods that illustrate everything with great ease and simplicity
Having command over the fundamentals of this software is the most important element one should have, to master Film Editing. Thankfully, the course is designed is a friendly way that it will not take much time for anyone who is introduced first time to this program.
This Film Editing course opens many prospects for the students and professionals to choose from various career options. From Beginners to experienced learners, anyone can take up this course. Learners can go for jobs like an Audio Video Editor, 3D Animator, 3D Artist, Lightworks Video Editor, Assistant Video Editor, FCP Editor, VFX Artist, Roto Artist, 3D Modeler. The choice of career and the capacity to use their skills & flair is in the hands of the learner.
Film Editing Course Reviews
---
Introduction to Video Editing in Premiere
I have enjoyed this course for several reasons. The instructor is detailed in his approach to explaining all of the ways to access something. The instructor competitively covers the basics and makes it clear what is being covered or taught. I am looking forward to the next several Courses so I can have an advanced understanding of Adobe Premier.
Derek L McIntire
Great Experience of Learning
Like the courses & its structures very helpful & easy to understand. Adobe After Effects course is really interesting would recommend this course for people who want to learn about video editing. The course covers more all option which is available in video editing and makes it a perfect course. looking for more interesting designing & video editing courses like this in the future.
Linked
Pramod Kumar
Informative Course.
For the professional video editor, this video tutorial gives a proper introduction of the sony vegas editor and teaches the lesson on the interface. This module ended abruptly which indicates that this tutorial is just the introduction. It interested me in learning something new in the form of a video editor. Thank you.
Linked
NABENDU KUMAR DEB
Sony Vegas Software
I loved the sony vegas course. It provided me with so much important information. It even had the minute details in it. It was beautifully & well-explained with limited video timings. I would like to enroll myself in many more courses. It covered almost all the content from the introduction till about the software.
Shaza Aijaz Ahmed
Vegas Pro 13 Course
This course is about the Sony Vegas software which teaches us how to use the software many other things and it also gives information related to video cropping which very useful. The course is fully practical oriented which makes you PRO is using this software. M very much satisfied with this experience of training.
Manisha Vijay Chaddi