Learn from Home Offer TAKE THIS BUNDLE
Virtualization Training Program (9 Courses)
This Virtualization Certification Course includes 9 courses with 23+ hours of video tutorials and Lifetime access.

You will also get verifiable certificates (unique certification number and your unique URL) when you complete each of the courses. This course includes several modules that contain Virtualization related concepts such as Server virtualization, VMWare center, vSphere.
Virtualization with VMware
Offer ends in:
TAKE THIS BUNDLE
* One Time Payment & Get Lifetime Access
What you get in this Virtualization Training Program?
Online Classes
Technical Support
Mobile App Access
Case Studies
About Virtualization Certification Course
| Course | | No. of Hours |
| --- | --- | --- |
| VMware Virtual Machines | | 7h 21m |
| VMware vSphere Virtualization | | 3h 8m |
| Virtualization with VMware | | 1h 41m |
| Virtualization using KVM | | 3h 14m |
| Server Virtualization | | 1h 08m |
| Virtualization and Cloud Computing | | 1h |
| Hyper-V and Virtualization Training | | 1h 53m |
| VMware vCenter | | 3h 2m |
| Docker Training | | 1h 6m |
---
| | |
| --- | --- |
| Course Name | Online Virtualization Course Bundle |
| Deal | You get access to all the 9 courses. You do not need to purchase each course separately. |
| Hours | 23+ Video Hours |
| Core Coverage | What is virtualization, its uses and various virtualization software? Further, we will learn the challenges in Virtualization, key properties of virtual machines. We would discuss the state of infrastructure within virtualization |
| Course Validity | Lifetime Access |
| Eligibility | Anyone serious about learning Virtualization and wants to make a career in it |
| Pre-Requisites | Basic knowledge of Virtualization |
| What do you get? | Certificate of Completion for each of the 9 courses |
| Certification Type | Course Completion Certificates |
| Verifiable Certificates? | Yes, you get verifiable certificates for each course with a unique link. These link can be included in your resume/Linkedin profile to showcase your enhanced skills |
| Type of Training | Video Course – Self Paced Learning |
| System Requirement | 1 GB RAM or higher |
| Other Requirement | Speaker / Headphone |
Online Virtualization Course Curriculum
---
The below table gives a detailed overview of all the courses with the list of chapters covered in the course content–

VMware Virtual Machines
This virtualization certification contains several concepts mentioned in course curriculum such as Introduction, setting up the stage, Overview of cloud computing, take away from cloud computing, Virtualization concepts, Traditional server count, virtualization.
VMware vSphere Virtualization
In this virtualization certification chapter, the topics covered are Introduction to Virtualization, Virtualization technology, Virtualization software, key properties of Virtual Machines, storage VMotion, update manager, VMware software introduction, VMware inTrod, VMware workstation theory, Installing VMware, Working on Virtual Machine, use of VM OS, clone of VM, Map and Virtual network editor.
Virtualization with VMware
In this module, the concepts included are Introduction to the course, Server Virtualization Introduction, Before Virtualization, Server Consolidation, Development environment, development provision, After Virtualization, Business continuity, Server Security, Hardware Independent.
Virtualization using KVM
In this virtualization certification module, the concepts are Introduction to Virtualization using KVM, KVM Virtualization solution, configuring network, more on configuring network, creating first VM, Install Virt viewer, Create KVM, Connection and Command, Virsh command, Ssh connection, Gedit text editor, Migration, Learn about Migration and Backup, IP assigning, Backups of VM, Migrating Virtual Machine CS to another AS.
Server Virtualization
In this virtualization certification, the modules explained are Introduction to Hyper-v and Virtualization training, getting started Virtualization, before and after Virtualization, types of Hyper Visor, Network virtualization, Installing Vmware component, Installing ESXi 6.X and Boot from San, Primary partition and Volume properties, Server Appliance Deployment.
Virtualization and Cloud Computing
In this virtualization certification, the concepts covered are Introduction to vSphere training, Server concept and fundamentals, Tower Server. CPU Socket vs CPU Core, Storage Fundamentals and Technologies, Types of RAID and Levels, Definitions of NAS and SAN, Fronted SAN protocols, Software manage storage and controls, Virtualization with vSphere, Vmware ESXi Server, vCenter Server manage Physical Host, ESXi 6.5 installation, Server manager, vCenter server installation, data center, basic storage, using server,
Hyper-V and Virtualization Training
It contains Introduction to VMware training, Linux Basic commands such as CAT, CP, Add, find, grep, whoami, tab, history and more, VMware overview, VMware workstation installation, installing win7 in VMware workstation, how to install Virtual Machine in ESXi Serve, Network settings, VMWare player, managing network settings, VM Ware converter standalone, VM Ware shared machine.VM ware machine snapshot.
VMware vCenter
It contains Introduction to vCenter and vCenter appliance training, ESXi 5.5 system requirements, installation and configuration, Why vCenter, features of vCenter, fault tolerance, how to installation vCenter, VMware installation, installing VMware-vCenter server, installing VMware-vSphere Client, usage administrator, VMware vCenter, introduction to VMware vCenter, resolution of vCenter Server, resolution of vCenter Server, configuration of vCenter Server, database and administration and SSO settings of vCenter Server.
Docker Training
This virtualization certification contains Introduction and basics to Docker, getting started, the concept of container, docker swarm, docker command, building images in docker, commands for Docker images, writing a docker file, docker commit command, docker build command, entry point instruction, specification in docker, basics networking and Docker Continuous Integration.
Virtualization Course – Certificate of Completion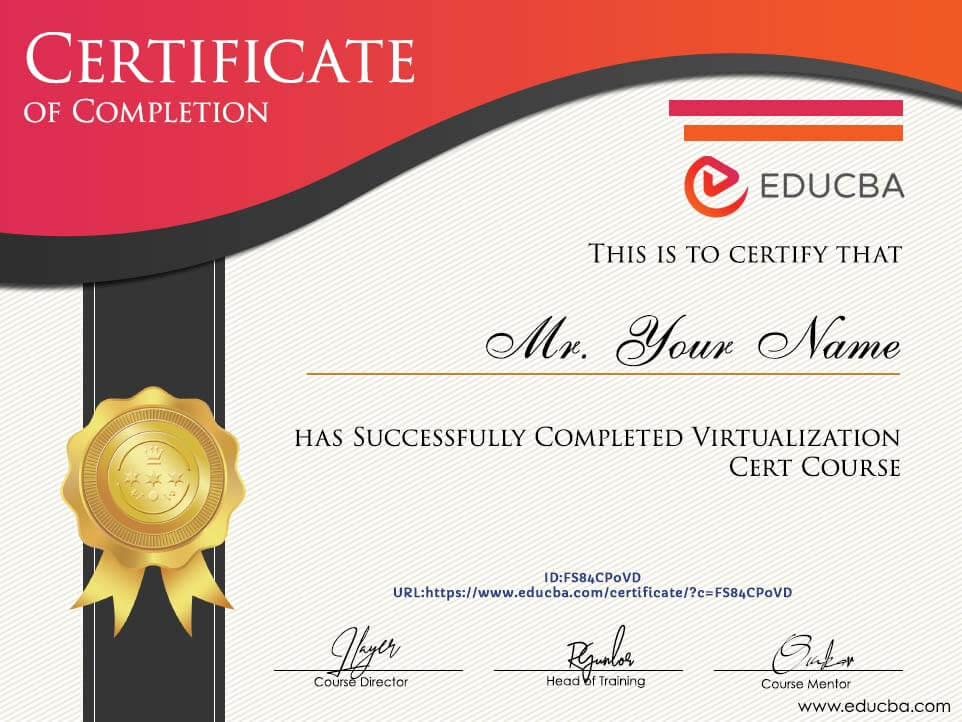 ---
What is Virtualization?
Virtualization is the process of virtualizing the software and hardware components such as Computing devices, operating systems, hardware platforms, computer networks, RAM and physical storages, etc. Virtualization can be referred to as either hardware or platform Virtualization. All the operating systems are separated from each other in the Virtualization process. There are different types of Virtualization such as Client and Desktop Virtualization Services, Server Virtualization, Network Virtualization, Applications Virtualization, and Storage Virtualization. The different Virtualization methods are used based on the application of the requirement. This would save a lot of time and effort rather than waiting for the computing resources to fulfill the needs. Virtualization is the core component of cloud computing where it enables cloud computing to work efficiently. Virtualization enables the increase of availability, fast server responses, independent services, efficient effective utilization of the hardware components.
The Windows Virtualization is the process of installing Hyper-V in Windows. Hyper-V is the core component of Virtualization which is called Hypervisor. Virtualization enables to create a greater number of virtual resources from a single physical resource. The different concepts of Virtualization are Virtual Networks, Virtual Storage, Virtual Memory, Virtual CPU which will be controlled from a remote computer rather than directly interacting with it.

Industry Growth Trend
The Application virtualization market size is expected to grow from USD 2.2 billion in 2018 to USD 4.4 billion by 2023, at a Compound Annual Growth Rate (CAGR) of 14.0% during the forecast period.The growing need for providing solutions for lengthy application installation process with improved security and simplifying the management of overall application cycle are the major growth factors for the market.
[Source - MarketsandMarkets]
Average Salary
Average Salary
$102,544 per year
The average salary for a Virtualization Engineer is $102,544 per year in the United States.
[Source - Indeed]
What tangible skills will I learn from this Virtualization Certification?
The set of skills that can be acquired on completion of this Virtualization course are web VMware, vSphere, Cloud, KVM, Virtual Machines, Server Virtualization, Hyper-V, VMWare vCenter, Cloud, Cloud Computing, Server Appliance, Docker. and a few other Virtualization and cloud computing technologies.
Virtualization certification has many excellent courses and chapters which are covered in this course curriculum that are very useful in obtaining knowledge of several types of Virtualization techniques and several other skills related to cloud computing.
There are also some other skills which can be added from this Cyber Virtualization course are such as Hyper-V, VMWare vCenter, Dockers, Containers, KVM, Cloud computing, etc.
The Virtualization course also has a set of tangible skills that are installing or virtualizing the windows using Hyper-V, Virtualizing the several types of operating systems according to their capabilities.
This Virtualization course is very useful for the prospective Cloud computing engineers, VMware engineers, Linux Admin, Citrix Admin to virtualize the computing resources in larger organizations to provides the connecting capabilities to a large number of users.
Pre-requisites
Willingness to pursue a career as Virtualization Consultant or Linux Admin or VMWare admin: The Virtualization course has a set of prerequisites which are required to proceed with the course contents such as UNIX basic knowledge, advanced networking concepts and the basics of cloud computing is also recommended to easily learn the concepts of Virtualization. This Virtualization course is easy to learn if one has intermediate or basic knowledge on operating systems, networking, and system administration core concepts knowledge, and also any hands-on experience is an added advantage in the Virtualization and cloud computing area to complete this Virtualization certification course.
Knowledge in Networking or OS or Cloud Computing: Any relevant experience or basic knowledge in the areas of operating systems or networking or cloud computing or Virtualization concepts or such as Hyper-V, VMware, vSphere, etc. in maintaining the cloud computing systems and Virtualizing the computing resources using the Virtualization techniques will be a greater benefit to further learn the contents of this Virtualization course more quickly.
Target Audience
Students of Engineering in Computers: Any learner who is a student of engineering in computer science or degree in computers and who are having strong knowledge in the networking, operating systems and cloud computing or Hyper-V or Virtualizing along with any programming language, then this Virtualization course is an added advantage to their career, academics and also to obtain much knowledge in the Virtualization techniques using cloud computing techniques and its relative Virtualization standards in this Virtualization course. This Virtualization certification will add many more benefits once upon completion of the same. This Virtualization course has also been designed to advance the career of the learner as a VMware or cloud computing professional.
UNIX Engineer or VMWare engineer: This Virtualization course learner will be able to learn the number of skills from the contents which will further enhance in getting the career advanced as a Citrix Engineer or Windows System Administrator, Data Analyst or Virtualization Consultant or Windows VMware Administrator or VMware System Administrator or System Engineer or Technical Support Engineer or Linux System Administrator or IT Infrastructure Manager or Hyper-V Administrator or Network Administrator or Cloud Consultant or Cloud Architect. This Virtualization certification can be opted with no other thought because of its excellent job opportunities in the current market. This Virtualization course is best recommended for any Cloud computing engineer.
Bachelor or Master of Computers in Engineering/Science: Any Bachelor or Master in Computers Science Engineering or degree can opt for this Virtualization course to secure a Cloud computing or Virtualization engineer job in any Cloud Computing related or System Administration roles in the larger organizations.
Virtualization Course FAQ's- General Questions
---
Why should I choose this Virtualization course?
Any VMWare Engineer or Citrix Engineer or Cloud Computing Engineer working on the cloud computing systems or Virtualization and who are eagerly willing to learn and master the Cloud Computing and Virtualization techniques and concepts should choose this Virtualization course.
I don't have a background in computer science or web development technologies or a technical engineering, can this virtualization certification still be considered a good option?
YES, this course can still be considered as an option without the knowledge of computer concepts as this is not having any pre-requisite. Anyone interested in learning the Virtualization and cloud computing concepts can opt for this directly without any other basic or warmup course. The concepts in the Virtualization course can be easily learned without any hassles but any knowledge in computers or networking or operating systems are highly advantaged.
Would this course add value to my profession?
Yes. this course would add value to the learners' profile definitely including verifiable certifications.
Is this a quick-fix to clear interview or do I still need to practice continuously while learning this virtualization certification?
Yes, this is can be a quick-fix with previous knowledge or experience in computers or Virtualization or its relative system engineering administration roles. This Virtualization course needs to spend a minimum of 23 plus hours to complete.
Career Benefits
There are several career benefits upon learning this Virtualization course and course curriculum which are mentioned below:
This Virtualization course is a package of all the complete courses for the cloud computing and Virtualization that provides in-depth knowledge in the Virtualization topics including hands-on video content for any VMWare or UNIX engineer.
Any Citrix Engineer or UNIX Engineer or VMware Admin or Systems Admin can opt for Virtualization Security course to master the cloud computing techniques and elevate their career to the next level such as Cloud Computing or VMWare Consultant, Data Analyst, Cloud Consultant or Cloud Architect, etc.
There are also several other benefits in the career upon choosing this Virtualization course such as the Virtualization course certification which can be part of your CV or resume profile as a verifiable qualification for all the learners thus improves the job opportunities further in the Cloud market.
Testimonials
---
Virtualization and Cloud Computing
One may find the course (i.e., Virtualization Certification and Cloud Computing) interesting and filled with current information. This course content was delivered in an informative manner. This instructor appeared to be very knowledgeable about the subject manner. I would recommend this course for those interested in learning more about cloud computing.
Linked
Lester Darris, DBA
Cloud Computing Review
The best course so far. The instructor was excellent. As an introduction to Cloud Computing it was incredibly educational. The future of Enterprise computing lies within the cloud. I learned a lot of new things. The instructor expanded on the things I already knew, therefore, making the learning more valuable. Thank you.
Richard H. Rihm
Nice Experience
Thanks for the insight on Vmware Visualization. Wonderful Virtualization Certification.
Linked
George Kwofie
VMware Virtualization
Very basic, but well prepared, tutorial/guide for anybody interested in "playing" with VMware products. For more advanced users, there is too much already known information, Also, there is a need to point out, that the main subject of this course is VMware Workstation and not the VMware ESXi. To summarize, the instructor has understandable pronunciation, the course has good and logical structure, but covers only basics.
Marko Zbirka