Learn from Home Offer TAKE THIS BUNDLE
Customer Analytics Training (2 Courses)
This Online Customer Analytics Certification includes 2 courses with 3+ hours of video tutorials and Lifetime access.

You will get to learn about the concepts and application of Customer Analytics which is to understand how data is used to find out customer behavior and to create more effective business strategies using tools such as R and Tableau to perform the analysis.
Customer Analytics Course
Customer Analytics using R and Tableau
Offer ends in:
TAKE THIS BUNDLE
* One Time Payment & Get Lifetime Access
What you get in this Customer Analytics Training?
Online Classes
Technical Support
Mobile App Access
Case Studies
About Customer Analytics Course
| Course | | No. of Hours |
| --- | --- | --- |
| Customer Analytics Course | | 1h 06m |
| Case Study - Customer Analytics using Tableau and R | | 2h 11m |
---
| | |
| --- | --- |
| Course Name | Online Customer Analytics Course |
| Deal | You get access to all 2 courses bundle. You do not need to purchase each course separately. |
| Hours | 3+ Video Hours |
| Core Coverage | Understand how data is used to find out customer behavior and to create more effective business strategies. |
| Course Validity | Lifetime Access |
| Eligibility | Anyone who is serious about learning customer analytics and wants to make a career in this Field |
| Pre-Requisites | Basic knowledge about data and analytics would be preferable |
| What do you get? | Certificate of Completion for each of the 2 courses |
| Certification Type | Course Completion Certificates |
| Verifiable Certificates? | Yes, you get verifiable certificates for each course with a unique link. These link can be included in your resume/Linkedin profile to showcase your enhanced skills |
| Type of Training | Video Course – Self Paced Learning |
| Software Required | None |
| System Requirement | 1 GB RAM or higher |
| Other Requirement | Speaker / Headphone |
 Customer Analytics Course Curriculum
---
In this section, each module of the Customer Analytics Certification Course is explained.
| | | |
| --- | --- | --- |
| Sr. No. | Course Name | Course Description |
| 1 | Customer Analytics Course | Customer analytics training is about 1 hour long and contains 16 videos. It teaches the following topics such as Introduction to customer analytics and then gradually move towards the depth of the content such as What is customer analytics, Customer life cycle, Customer onboarding, Customer onboarding process, etc. Once all these are covered, next the course introduces the idea of Customer activation, Customer activation importance, Cross-selling and so on. Cross-selling is very important for some domains like banking and hence knowing Why cross-selling and How cross-selling is beneficial. Apart from that, the candidate also learns about Upgrading upsell, Campaign life cycle transition, Campaign execution, Campaign channel, and Campaign assessment. In the end, a comprehensive conclusion is provided. |
| 2 | Customer Analytics using R and Tableau | This Customer Analytics Certification Course is a little more than 2 hours and contains 13 videos. It teaches the following topics such as it starts with Introduction to customer analytics using R and Tableau and then foes towards Market research, Execution vs Perception, Market segmentation and Summary of cluster groups. Next candidates learn about Descriptive analytics, Company performance key metrics, and Predictive analytics. Once these topics are covered, a case study is introduced, and the focus now shifts to the application. Here you learn about Telecom churn analysis, Sensitivity and specificity, Prescriptive Analytics and Case studies and examples. |
---
Customer Analytics Course – Certificate Of Completion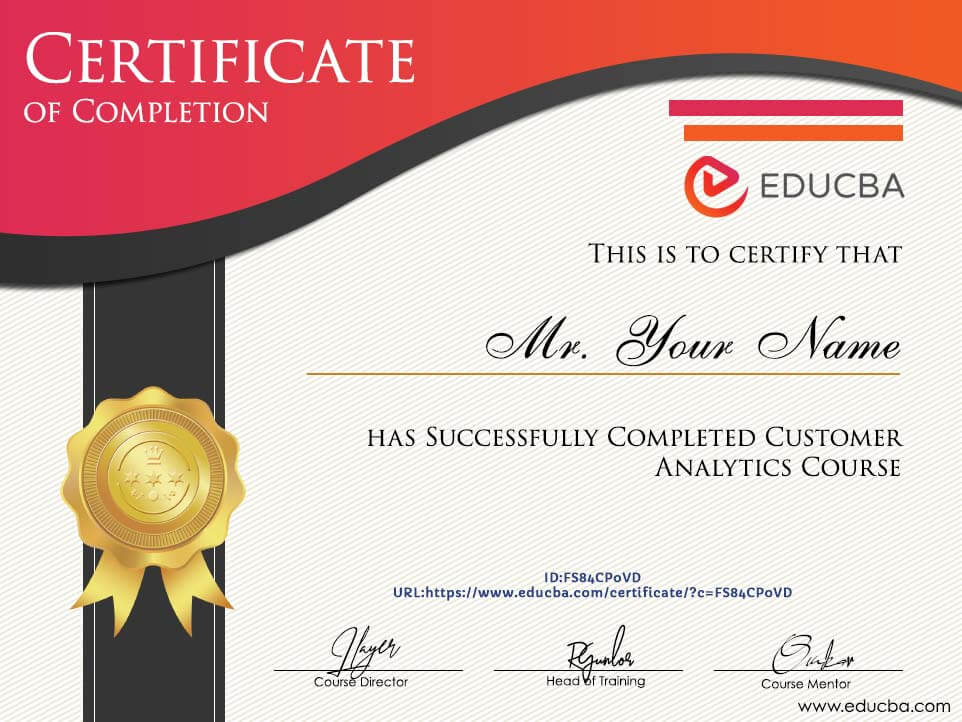 ---
What is Customer Analytics?
Customer analytics is the technology that helps organizations unlock details about their customers and find insights that can expand their businesses and increase their return on investment in such endeavors. We will provide a brief introduction to this fast-growing field of customer analytics and talk about why it is needed for companies, how it is used there and what are the benefits and setbacks of Customer analytics.
Today, it is important for all organizations to learn how they can effectively work with customer data to gain insights and answers to key questions that can enhance their business operation and revenue. In this Customer Analytics Certification course, to teach such fundamental aspects of the technology, we shall use sophisticated statistical tools such as R and Tableau to analyze some actual customer data.
The use of Customer analytics is becoming more and more applicable to today's world. Data is growing at a fast rate and all companies want to utilize this huge amount of data to learn about the needs of their customer. Customer satisfaction is key to competitive success and those organizations do not understand their customer losses in this battle of fierce competition. Customers are becoming more and more powerful with so many options available to them and they have to power to share their experience through social media to a large number of peers which can benefit or ruin a company Customers are armed with so much of information that they can build the brand in a day or ruin them. If companies can understand their customer's buying habits and their pattern, then they can predict future customer behavior which will guide them to launch what relevant products they need at the right time and thus will earn a huge amount of profit.
Customer analytics can be better understood through below bullet points:
Customer analytics helps organizations increase the response rate such as for incident tickets etc.
Customer analytics leads to high customer satisfaction and customer loyalty and also turn the business by increasing the return on investment
Customer analytics builds a mechanism that reduces the campaign cost by only targeting the right customers which are most likely to buy a given product or service at the given time.
It can also help in decreasing the attrition rate of employees by predicting the customer's expectations well in advance and also deliver the required product to them when it is needed.
It can segment the customers into specific groups more effectively so that it is easy to understand the customer and their needs in a better way.
It can also help in understanding how data can be used to find out much-hidden information about customer behavior.
Best practices about using the data so that personal information is not exposed are also taught in this Customer Analytics Certification and are quite important for customer analytics professionals.
Effective business strategies can be designed using current data and analytics.
Industry Growth Trend
Global Business Analytics Market to grow from $40,814.6 million in 2014 to $66,719.8 million in 2019, at a Compound Annual Growth Rate (CAGR) of 10.3% from 2014 to 2019 Today, organizations are operating in a vibrant business environment, and thus face dynamic changes in customer demands.
[Source - MarketsandMarkets]
Average Salary
Average Salary
$75,629 per year
The average salary for a Business Analyst is $75,629 per year in the United States.
[Source - Indeed]
Which tangible skills will you learn from this course?
During this customer analytics certification course, a candidate will learn the following skills which shall prepare them for the job and a great career.
Customer Analytics: Analyzing customer data to gain insights
R: It is a great tool for data analysis and machine learning.
Tableau: Tableau is used for data visualization and analytics.
Market Research and Analytics: Understanding market trends and customer sentiment is learned on this topic.
Market Segmentation: classifying the market based on customers' needs and offering so that the right product can be targeted to the right people.
Descriptive Analytics: it is the art of describing data in simple and intuitive ways for easy understanding.
Predictive Analytics: here we learn about the future outcome and trends based on past results.
Sensitivity and Specificity: these are two metrics to measure the performance of any predictive model.
Prescriptive Analytics: these are a set of measures to improve business performance.
Customer Analytics and Customer Life Cycle: it's a part of customer analytics where we focus on life cycle management
Customer Onboarding: Customer onboarding is defined as enabling the customer to start with their analytics journey.
Campaign Life Cycle: managing end to end of a campaign for analytics use cases.
Pre-requisites
The people who are taking this Customer Analytics Certification Course should have certain specific skills to succeed and the same are as below:
Problem-solving abilities – A skill that is vital for every engineer.
passion to learn – if you feel excited about new things, you are most welcome in this Customer Analytics training.
Interest in mathematics and applied mathematics – analytics and mathematics go hand in hand and you cannot avoid it.
Proficiency in at least one programing language – because all units have coding exercise.
1-3 years of experience in data handling and data processing is desirable but not mandatory – this shall help you build the right perspective.
A degree in engineering, management or computer science is most suitable – Because a strong base is best.
Ability to think spontaneously and having creativity is also desirable – because analytics is thinking on own's foot.
Curiosity for knowledge and willingness to learn new things – An engineer is a lifelong learner.
Target Audience
This Customer Analytics Training Course is designed keeping in mind the need for professions such as data managers, business development managers, marketing managers, data analysts, data scientists, and IT managers. Apart from this, those people who are interested and passionate about learning customer analytics may also take this course for their professional development.
In this section, we provide details on the type of people that are suitable for this Customer Analytics training and the list goes as below: –
Junior Data analyst: People who know some details on data analysis and machine learning but now wants to learn customer analytics course.
Data Engineers: These are such people who work with database systems like database developers or database administrators etc.
Analysts: Here come those people who are business intelligence guys like data analysts, data visualization, etc.
Data Architects: Senior and junior data architects or software architects who specialize in product development, project architecture and solution management, etc.
Software Engineers: here traditional Java, C, PHP developers or Android and iOS developers who want to switch to customer analytics.
IT operations and network engineers: Such as network administrators, security experts, and IT engineers' guys, etc.
Technical managers and project managers: People who want to lead or manage an expert of analytics professionals in their team.
Customer Analytics Course- FAQ
---
What is the pre-requisite before enrolling in this Customer analytics training?
Pre-requisite are mentioned in the section above. These are not quite hard pre-requisite and hence anyone can join this course with little work and previous planning. Especially people who are interested in learning to make decisions in their business through customer data can enroll in this Customer Analytics Training.
How long does this customer analytics certification course run?
It is a self-paced course that people can take based on their schedule and availability.
Is this online degree comparable to the classroom degree?
This online course is as good as a classroom course in terms of quality of lecture and quality of standard.
Will this customer analytics training course include a real-life scenario for learning the subject?
Yes. The course uses several case studies to teach the concept of customer analytics and also includes hands-on practice where learners solve problems themselves.
Sample Preview
---
Career Benefits
After completing this Customer Analytics Certification course, learners can become eligible for the following types of jobs.
Data Analyst: These people analyses data and prepare basic reports for management or experts.
Analytics Manager: These are senior-level people who manage a team of analysts, data scientists or business intelligence people.
SAS Analyst: People who are experts on data analysis using SAS software.
Analytics Consultant: People who advise and enable organizations to implement analytics solutions into practice.
Product Manager: Senior-level professionals who manage large products or projects managing various types of analytical deliverables.
Project Manager: Project managers are those people who control, run and deliver on large projects with analytics core or analytics as one of the deliverables.
Marketing Analyst: Such people specifically focus on the application of analytics in marketing.
Fraud Analyst: Application of analytics in fraud and investigation
Pricing Analyst: Application of analytics in deciding the price of a product or goods.
Video Analyst: Here video is used as a data source to find relevant statistics and insights.
Senior Business Analyst: these are the designation for people with 3-5 years of experience in analytics.
Course Reviews/Testimonials
---
Amazing First Sashay with Customer Analytics
If you're looking to dipping your toes into customer analytics, this course is a good first start. It provides the foundation knowledge for customer analytics from mapping out the customer lifecycle and drilling down on what needs to be down per phase of the said lifecycle. I need to note that the course explains from a bank / financial service standpoint, though this I feel allows the course to explain the concepts better instead of not having any examples at all.
Linked
Acee Vitangcol
Customer Analytics using R and Tableau
The course gives an overview of how R studio and Tableau tools can be used to analyze customer behavior using the responses they give. The course teaches how clustering is done to cluster customers and make use of the clusters to provide customized offers/discounts to retain them. These techniques are used in e-commerce, cab aggregators and so on. In short, it is a useful course to gain a general understanding of how businesses use customer analytics to increase customer base and their revenue.
Linked
SHERI MIRIAM JOHN
Customer-Centric
This is a great course that explains how customers relate directly with the different company departments and how each department relates to the vision of the company to satisfy the customers, I like the fact that the course it is given with the assumption that the business it is moving towards the customer-centric vision, and how customer analytics will be the key to success.
Linked
Jorge Dominguez
Customer Analytics
The course was very informative. The course takes a generally high-level approach to teach the basic understanding of marketing for customer interactions. Very detailed and comprehensive overview.
Linked
Steven D Hyden
Customer Analytics Course
I just completed the eduCBA course on Customer Analytics. This is an overview of channel marketing, the terminology, and the most common workflow methodology. Even though I have a good knowledge of the processes for channel marketing, it was good to get an overview. The narration provides more detail than what is presented in the slide deck, so it's important to pay attention to the audio. The course is presented from the financial industry (banking) viewpoint. Overall, I recommend this course as a good refresher or an introduction to the concepts of channel marketing.
Linked
Timothy L Trimble
Great course
This is my first online course and I am satisfied with this program. This course is in-depth with customers' analysis. Clear teaching methods and hands-on examples. This course gives real-life data explains how to use the data. I plan to take more courses in the future. I would recommend this course to a friend.
Ricky Ly